A fairly unknown facet of the great Argentinian writer: Borges de draughtsman; an unexpected extension of his creative genius.
Two drawings by J.L. Borges, the poetry of the body /
That burst, tango, that mischief,
it defies the busy years;
made of dust and time, man lasts
less than a light melody,
that is only time.
J.L. Borges
 As well as prosing with brilliant geometry the most unforgettable Western stories, Jorge Luis Borges, traced a couple of drawings that can be easily attached to his oeuvre. In them, we can find two of his "minor" obsessions: tango and hydra. We say "minor", perhaps because they do not occupy as much space in his writing as labyrinths, mirrors, libraries, time…
The first drawing "El tango", is part of a Notre Dame rare book collection. Borges said tango had originated in brothels, as a way of encouraging the sensual closeness of bodies. Also, in 1965, he collaborated with Piazzola in a tango and milonga album called El Tango.  His drawing reads as follows:
Tango is from the brothel. I have no doubt of that. But certainty
is not with me when it comes to finding its birthplace.
For Ernesto Poncio, it is the archway of Retirement,
it is clearly, in the whorehouses; the Southerners believe it
is in Chile street, and the Northerners sustain
[…]
it is on Temple street, both whorehouses.
In any case it is also indisputable that it was born between 1880 and 1890.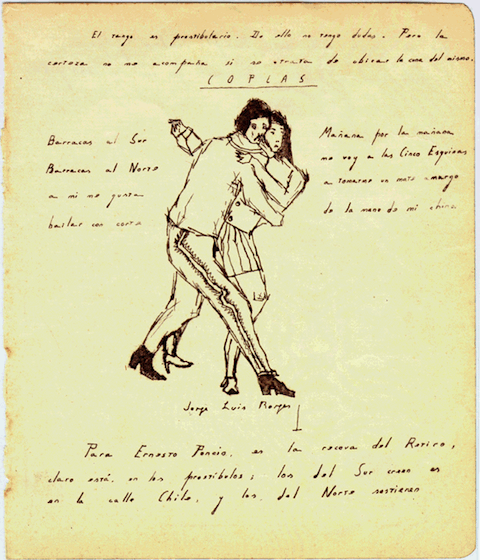 The second drawing, called "La hidra de los dictadores" (the hydra of dictators), alludes to the political animal; the mythical seven headed monster. In it we can see the faces of Hitler, Peron, Rosas, Mussolini and Marx, as a single monster that can only be killed by severing all seven heads at once (a feat only Hercules could accomplish).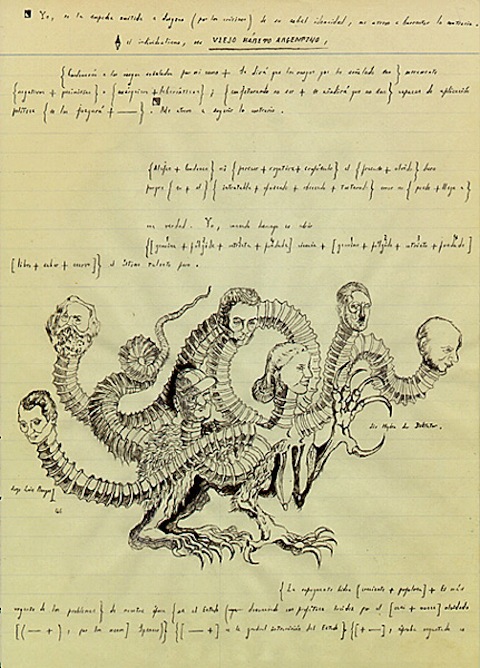 This last drawing is part of the Virginia University's manuscript collection, and can be found in a nine page manuscript called "Viejo hábito argentino" ("Old Argentinian Habit"), which was later published as "Nuestro pobre individualismo" ("Our poor individualism") in the book Otras inquisiciones (Other inquisitions). 
Tagged:
Borges
,
writers
,
literature
,
drawings by Borges
,
Unforgettable Books
,
books
Credits:
Image (Alicia D'Amico)